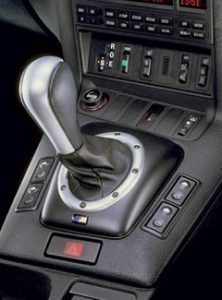 With the SMG transmission of the E36 M3, for the first time a sequential transmission, which were popular in motorsports, entered the series. The system was a cooperative production of the BMW M GmbH together with Fichtel&Sachs and the transmission manufacturer Getrag.
Unfortunately the transmission exposed to be quite vulnerable and unreliable. Several threads in online forums reveal experience reports from owners, who spent serious amounts of money in the repair.

Remark: because of the low spread of this system and the high age of the model series, we offer neither spare parts nor information for the SMG I.