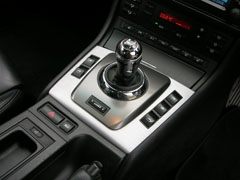 The second generation of the sequntial manual transmission developed by the BMW GmbH can be seen as the most famous and successful. The SMG II was created in cooperation with Getrag and the ZF Sachs AG and fitted exclusively to the BMW E46 M3. Also the SMG II bases on the normal manual transmission of the model series, the Getrag S6S420G. The probably most important change compared to the predecessor from the E36 M3 is the introduction of the Drive Logic System – an intelligent control, which adapts the shift characteristics of the transmission individually to each driving style. In the sport mode the system allows shifting times around 80ms and hereby a value, which is significantly below the shifting times of the Non-M SMGs.
Furthermore the E46 M3 can be distinguished from the Non-M SMGs as the hydraulic components of the systems are located spread across the engine compartment. This simplifies maintenance procedures. Another difference can be find in the usage: in contrast to the Non-M SMGs, each shift paddle of the E46 M3 steering wheel is dedicated either for up- or downshift.
The famous E46 M3 CSL was equipped only with the SMG II gearbox.