Compression Spring BMW E46 M3 SMG II
5,04 €
A broken compression spring can cause problems with the gear selection or adaption process.
Compatible vehicles

:

BMW E46 M3
In stock
Related Products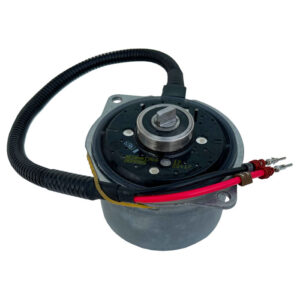 Hydraulic Unit Pump Motor BMW E46 M3 SMG II
The pump supplies the hydraulic pressure for the different consumers (actuators) of the SMG and stores it in the pressure accumulator. The pump consists of a gear pump and the powering electric motor. Due to its location in a high temperature area, the motor suffers often from damage and is a common problem. Especially on hot days the car can
drop out of gear
or show the
gearbox warning light (SMG cog light)
. Often the following codes appear in the error memory:
56 (0x38) Switching-on time of hydraulic unit
53 (0x35) low level of pressure reached HE
57 (0x39) Misuse of hydraulic unit
55 (0x37) Switching-on frequency of hydraulic unit
No worry – here is a solution for these problems!


We provide a new motor for the pump as a solution for various problems with the BMW M3 SMG II. The motor meets highest expectations of quality and enables a sporty style of driving with frequent shifting. Of course, the motor comes with a 12 month warranty.


The old motor can be replaced by the new one "plug&play". The replacement motor is already equipped with the required pins and can be directly connected to the original wiring harness. For removing the old motor, you may need a release tool.

302,52

€
Your wanted part is not listed in the shop? Maybe we can repair it. Have a look at our repairs section!